Volunteer with Welcoming the Stranger!
Welcoming the Stranger is an educational nonprofit that provides free English, Citizenship, and Computer classes to immigrants and refugees in the Philadelphia metro region. There are many ways to help us with our mission. We rely on volunteers to help teach in classes, do outreach to the community, help plan and carry out events and fundraising, and assist with administrative tasks. Thank you so much for your willingness to help our organization. It truly takes a village to accomplish everything WTS sets out to do for our students. WTS is a family, and our volunteers are such an integral part of that family. We couldn't do it without you! If you have any questions, please let us know.
"I love interacting with the people who use WTS services. Their lives are so very interesting, and I feel privileged to have them share their stories with me and the other volunteers. Our class members are from every corner of the globe and bring with them diverse cultures, norms, education, work experiences, and different fluency with English.
Volunteering to teach ESL challenges me, as teaching English is not a straightforward skill. It requires listening and watching those who are trying to learn to discern whether they truly understand what you are trying to convey to them. I love seeing the "aha" moment when everything clicks for them and for me, as I learn how to better help the students. The students are so eager to learn and are so appreciative of the help they receive. Helping to build the students' self-confidence in communicating in English is truly gratifying. I leave each class with a feel that can only be described as joy.
What seems to me as second nature in speaking my native language is really quite complex with many subtle nuances that are not easy to learn, and takes skill in knowing how to best explain to others who do not speak English fluently. As an ESL teacher, I will want to expand my teaching toolbox so that I have many tools to use. I have learned that when asked or on their own, the students are very supportive of each other and often jump in to help another student who speaks the same native language. I've learned that teaching ESL is a team effort where everyone – including the volunteers – learns and grows."
~Becky, ESL teacher
"When I retired 13 years ago, I was looking for something which was meaningful and helpful to others. I saw in our church bulletin that WTS was looking for volunteers, and felt it was important for immigrants who wanted to live in the U.S. to speak the language. It's the best thing I ever did. All the students are so appreciative. When I see them learning and becoming more confident, it makes me feel good; plus, I am learning about different cultures in the world. I find their life stories fascinating and I soon become attached to the students. Hopefully, I will make as a small difference in someone's life as they have in mine."
~Nancy, ESL teacher
WAYS TO HELP:
Teaching
Are you interested in volunteering as a teacher or assistant? You do not need teaching experience. The only requirement is that students, teachers, and volunteers come with openness to others, respect, and a desire to learn and share knowledge with others. Please be able to commit to a full semester. If you are unable to commit to a full semester but are still interested in volunteer teaching, let us know and we can add you to a substitute list after a short training period. Please note that teaching positions are subject to need, but needs change often in our various locations. Please mark down ALL locations and classes you'd be willing to help in on the interest form. It is helpful to check our current class schedule on the "Classes" page to pick classes you'd like to participate in. Make sure that the availability you give us matches our classes. If you mark down that you are only available on Mondays in Levittown, we will not be able to place you, as there is no class in Levittown on Mondays. If you have questions or need further explanation, please contact us at admin@welcomingthestranger.org.
Classes in English are provided to beginner, intermediate, and advanced students, covering topics such as reading, writing, speaking and listening as well as American traditions, culture, and etiquette. Classes meet once or twice a week for 90 minutes. An instructor is aided by several volunteers so that student to teacher ratio is 2:1; and students are given ample opportunity for direct interaction with their instructors and work on leveled lessons in small groups. Our English classes are highly personalized and curriculum is adjusted to meet the needs and goals of the current students in the course.
In our Citizenship Preparation classes, students study the questions for the U.S. Naturalization Exam, as well as practice their English skills and practice test questions. We have a better than 99% success rate with students who take the naturalization exam, including more than 90% who pass on their first try.
Our Computer classes serve mostly older adults who are learning basic computer skills. We help them with basic skills such as how to access email and the internet, to more advanced skills in Microsoft Office Suite using Word, Excel, and other programs.
Outreach
Can you help us hang flyers and/or spread the word at your church/community group/book club/etc? If you're able to help us spread awareness, please email us and we'll send you a digital version of our flyer to hang around town. We also need people to help us table at occasional events, handing out information to prospective students. If you love public speaking, you can also join our "Speaker's Bureau" and help us speak about our work at places of worship, local libraries, and community events.
Events
Will you help us plan or work our events? Each year, we hold our very popular annual International Dinner for about 300 guests that include students, teachers, and supporters. Our students provide the homemade food from their own personal recipes from all over the globe for a large-scale potluck style meal, complete with entertainment, auctions and raffles, and lots of great socialization. We also may have smaller events throughout the year. If you help with events, you will be trained in volunteer roles and responsibilities.
Administrative
Are you able to dedicate some time to helping in the office? Are you wiling to help at envelope stuffing parties for our bulk mailings? Sometimes we also need help with making copies, data entry, and other administrative tasks. Many administrative tasks will take place at the Langhorne, PA office unless they are projects that can be done from your home. We usually have several remote projects going on that involve research and compiling of community resources to share with our students. We welcome your talents: Are you great at web design and want to help us with our website? Are you a writer who would like to do a guest article in our newsletter featuring a class, student, volunteer, or supporter? Are you a photographer who can photograph some of our students and teachers in action? We are always open to ideas and love to share your talents! This is a good volunteer option for people who cannot make a long-term commitment. We will contact the people on our list when these occasions arise.
Fundraising
Our Development Committee works to brainstorm fundraising initiatives, and we need help carrying them out! Sometimes, we work on specific campaigns or projects that we need help planning or implementing, such as publishing and promoting our student-written cook book. At certain times of year we need in-kind donations of gift certificates, gift baskets, art, crafts, etc. for event raffles and auctions and ad sponsors for our event program (especially for the International Dinner). We always need help reaching out to local businesses to donate, as well as picking up arranged donations. WTS provides you with an official letter outlining details that makes it easier to approach local restaurants and businesses when asking for this kind of donation. We also often have other fundraising initiatives and committees that need your help. If you have an ideas of a project you would like to spearhead, please let us know!
Intern
Intern with us to experience how nonprofits operate first hand. Flexible internships are available for college credit or noncredit learning experiences. Work with our Executive Director to focus on topics such as teaching, grant writing, research, data collection, social media and marketing, volunteer recruitment and training, resource creation and collection, curriculum development, management, fundraising, events, web development, and/or referrals. If you are interested in interning, please email Meg at meg@welcomingthestranger.org to set up a meeting.
Fieldwork
If you are interested in doing fieldwork for college coursework or ESL (TEFL, TESOL, or similar program) certification, please email Mary at info@welcomingthestranger.org and she will help find a placement for you in our classes. Please tell her about the requirements for your program, the dates you'd like to attend class, and a few choices of class locations that fit your schedule.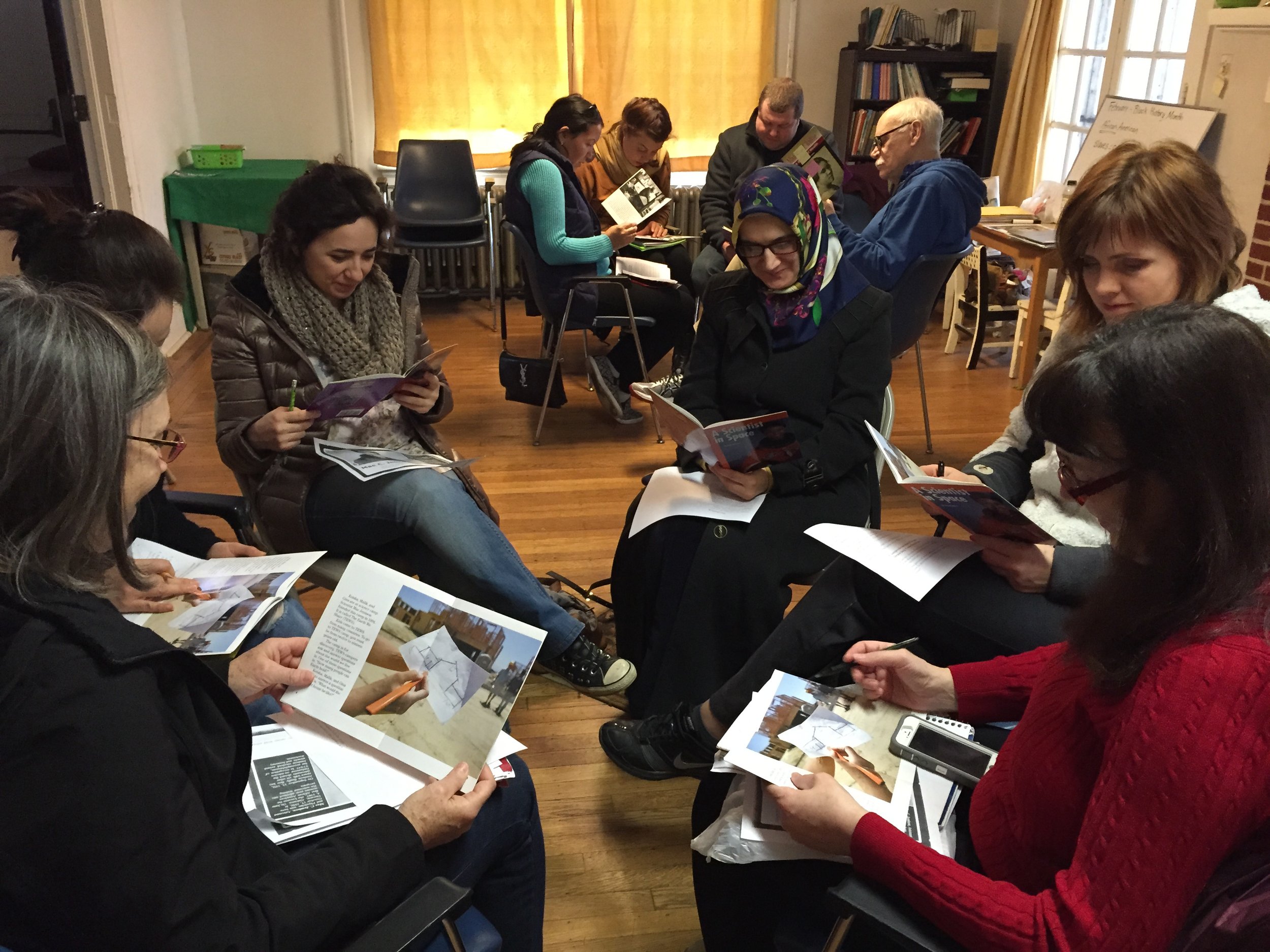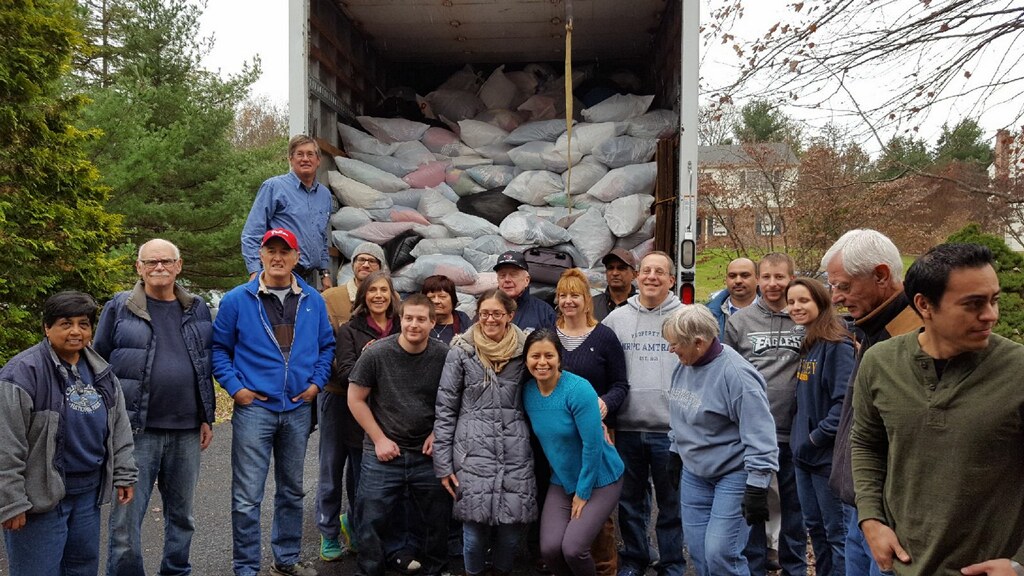 In order to volunteer, please fill out our volunteer interest form to express your preferences and availability. Once the form is filled out, you will be added to our list to hear of opportunities as they become available.
If you have questions, please contact us at admin@welcomingthestranger.org.