HISTORY OF WELCOMING THE STRANGER
Welcoming the Stranger was founded in 1999 under the now-defunct community group Lower Bucks Center for Church and Community (LBCCC). The program expanded until it outgrew the LBCCC and became it's own independent nonprofit. Today, 20 years later, classes now span three counties in the suburbs of Philadelphia and over 300 students attend classes in each of our three-week terms. Since its inception, Welcoming the Stranger has taught over 4,000 students from 104 different countries, and almost 300 immigrants have become citizens of the United States. Welcoming the Stranger is a fully independent, IRS-approved, 501(c)(3) non-profit corporation. Financial support comes from individuals, churches, and local businesses, as well as grants from area foundations, which allows all programs to remain free of charge for students.
Remembering Rev. S. Sturgis Poorman, Jr.
1945-2018
In September of 2018, we sadly lost our founder, who had remained active up until his death teaching two classes and serving on the board of directors.
Sturgis Poorman believed in helping others and had a quiet yet impactful presence that was always wise, fair, and respectful of all he met. His classroom was a safe, welcoming place where students learned not only academic skills, but also found community and developed a support system. He embodied the passage that Welcoming the Stranger is named after, Matthew 25:35 "I was a stranger, and you welcomed me." In his classes, students ceased to become strangers, and everyone was welcome. Students and American teachers alike learned from one another, sharing culture and creating community that remains even now after his death.
To date, the Welcoming the Stranger program Sturgis created has helped over 4,000 immigrants and refugees. Over 400 individuals have volunteered with the organization, helping Sturgis in his mission. That's a lot of people, and that's not even counting the families of our students who have also been impacted by his work and his legacy.
He touched so many lives in both big and small ways but everything was done with quiet dignity, grace, and respect for his fellow man.
His work lives on through all of us; by having known him, we are better for it. From one small ESL class of 8 students in 1999 to a program that has helped thousands, his life's work is a testimony to the great impact one person can have on the world. The work he began almost twenty years ago lives on, and through it, he lives on, too. The ripples from his life reach far, and the inspiration to welcome everyone who comes into our lives is a lesson we can carry forward in his absence.
Thank you for remembering him and honoring him.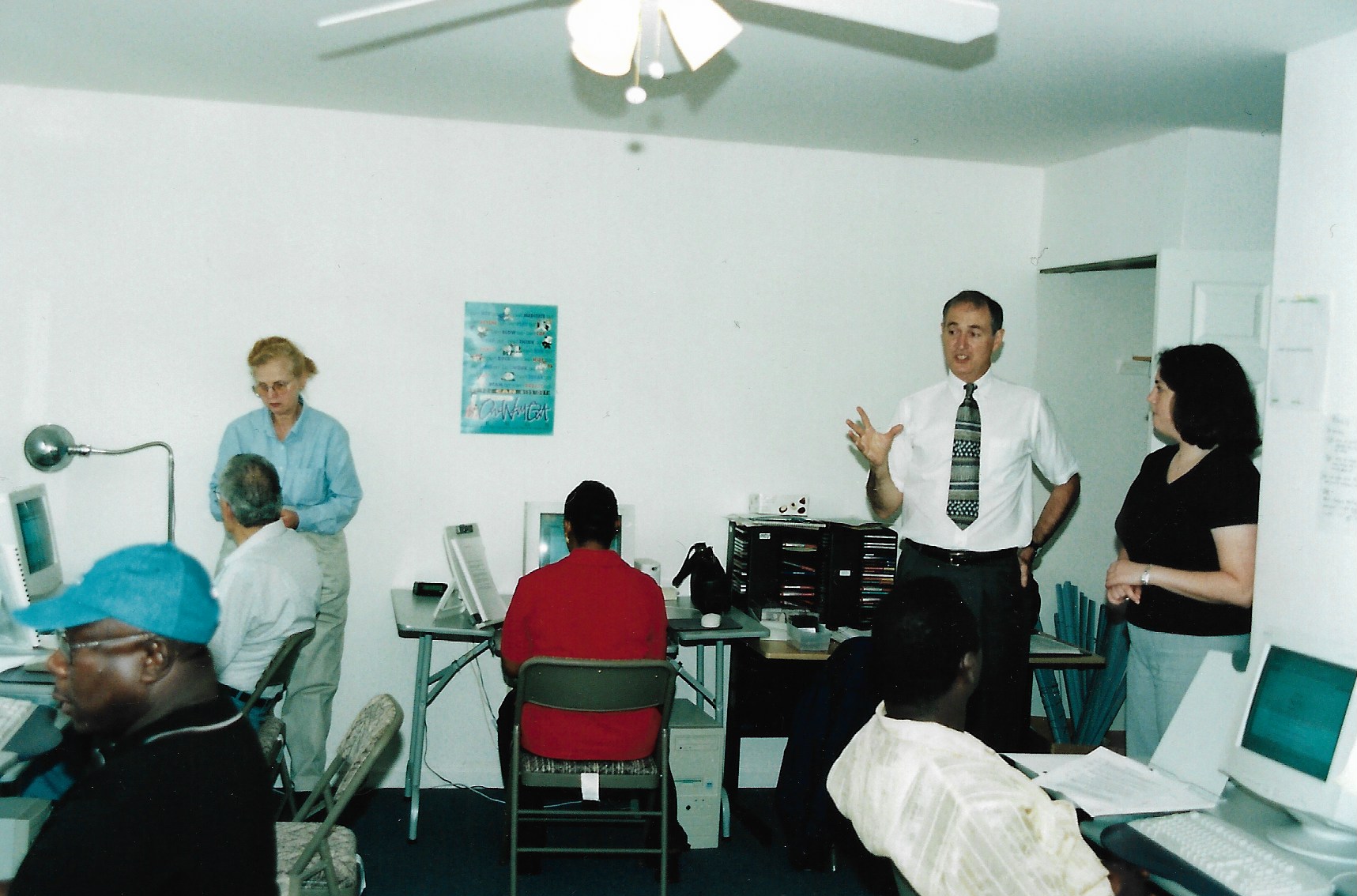 The History of Welcoming the Stranger as
Written by Rev. Sturgis Poorman,
Founder of Welcoming the Stranger and Executive Director from 1999-2015
The board of Lower Bucks Center for Church and Community (LBCCC) saw a need for a ministry of outreach to the many immigrants and refugees moving into the area during the 1990's. There was no money available and no leader for this ministry.

In September 1998, I told Al Krass, president of the board of LBCCC, that I was feeling led by God to work in full-time ministry with immigrants and refugees.

Soon the LBCCC board approved my proposal outlining an educational ministry staffed by workers and volunteers from area churches. I would direct the program and also be in charge of raising money. We chose the name "Welcoming the Stranger" to reflect Jesus' desire that his disciples should always welcome those who are recent immigrants to their homelands.

Planning began in January 1999. The first English class was held in February 1999, at the Langhorne Presbyterian Church. In the summer of 1999, the first computer skills classes began in the computer labs of First Baptist Church, Langhorne.

Next, at the request of the Lutheran Children and Family Services, Welcoming The Stranger began Citizenship Preparation classes in Bensalem. More than 200 immigrants have become US citizens with the help of this program.

During the summer of 2000, in cooperation with VITA of Bucks County, English classes were started at the Philadelphia Park Racetrack for immigrant workers.

The vision of an outreach ministry to immigrants and refugees expanded to additional teaching sites in Warminster, Bristol, Levittown, Morrisville and Newtown. Partnerships with the St. Mary Health Services, the YWCA of Bucks County, Chandler Hall in Newtown, and the Ivins Outreach Center in Morrisville were established.

In 2009, after ten years under the careful parenting of the Lower Bucks Center for Church and Community, Welcoming the Stranger became a fully independent, IRS-approved, 501(c)(3) non-profit corporation.

As of the beginning of 2014, more than 2700 students have been touched by this caring community of churches, organizations, and individuals. They have been welcomed to life in the U.S. and offered skills that have made their transitions to this new life smoother. The volunteers, over 300, have been enriched by the insights they have gained from working with diverse groups of adult immigrants and refugees.

Welcoming the Stranger began in 1999. Its mission over the past years has remained the same: to show Christ's love to immigrants and refugees through the teaching of English, Computer Skills, and Citizenship Training. The love of Jesus Christ has been proclaimed through the vehicle of education for life in the USA. Thanks are to God!